A daily updated list of Boxing on the BBC, ITV, Channel 4 and Five over the next seven days. This is a full TV listing with all the boxing shows highlighted...

---
Box Nation Boxing schedule...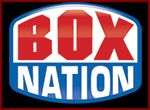 ---
All the latest fights to be shown on the Uk's main boxing channel Sky Sports - boxing only listings updated quite regular...

---
the full list of programes on British eurosport....

---
This is my main baby that i and posters on my forum can fill out info on and fights on or off tv and what channels they are being shown on. Feel free to join my forum and help keep this calendar full...

---